Ripley's Believe It or Not is facing backlash online after photos showing apparent damage to the Marilyn Monroe dress worn recently by Kim Kardashian went viral.
The reality TV star caused a media frenzy at the Met Gala earlier this year when she wore the late Monroe's famous "Happy Birthday, Mr. President" dress and revealed that she had lost 16 lbs to fit in the delicate silk garment.
The iconic gown was famously worn by Monroe in 1962, the same year she died, when she serenaded the then-president, John F. Kennedy.
Created from a sketch by Bob Mackie for costume designer Jean Louis, the nude-colored crystal-embellished dress was won at auction in 2016 by the Ripley's Believe It or Not museum who loaned it to Kardashian for the Met Gala.
Prior to the museum loaning the dress to Kardashian, it had been stored in a temperature-controlled vault and went for almost $5 million at auction.
Now a collector of Monroe's personal property and archives, Scott Fortner, has released images the dress since it was worn by Kardashian, showing what looks like pretty extensive damage to the delicate fabric.
"So much for keeping 'the integrity of the dress and the preservation.' @ripleysbelieveitornot, was it worth it?" Fortnerof The Marilyn Monroe Collection asked on Instagram.
Amanda Joiner, a vice president of licensing and publishing at Ripley's, previously told the Daily Beast: "We basically had many conversations with Kim and her team and put a lot of requirements in place with security and with the handling of the dress.
"The dress was never with Kim alone. It was always with a Ripley's representative. We always ensured that at any time we felt that the dress was in danger of ripping or we felt uncomfortable about anything, we always had the ability to be able to say we not were going to continue with this."
The photos show tears along the back closure of the dress as well as missing crystals and sequins.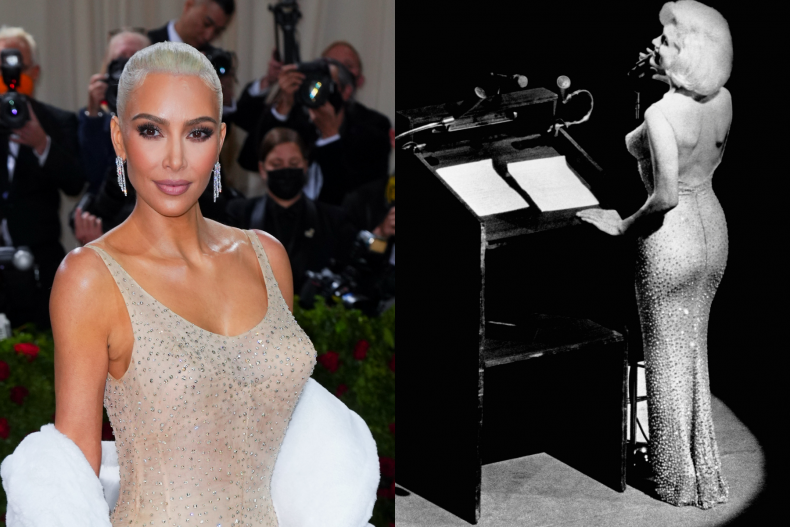 Speaking to PA, Fortner express his disappointment and questioned why Ripley's had previously pledged to ensure the dress would not be damaged.
"I think the disappointment that I'm experiencing is Ripley's has made multiple statements that it was doing everything that it could to protect and preserve the gown," Fortner said.
"I do feel that it (was) irresponsible, this is not just a dress. This is a cultural icon. It's a political icon. It's a Hollywood icon.
"It's part of American history from an event that happened 60 years ago and…it should have been archived and preserved and taken care of."
He added: "I think a lot of people are really kind of coming down really hard on Kim Kardashian and that's not my attempt here.
"It's the most famous dress in the world."
Newsweek has contacted Ripley's for comment.
Fortner's photos have sparked outrage online with many more people criticizing Ripley's for loaning the dress to Kardashian.
"The dress was already fragile from being so old and y'all let her big bbl ass slither into it. Ripleys dropped the ball," reads one tweet.
While another tweet, with more than 16,000 likes reads: "why. why why why why WHY. This is like walking into the Louvre and throwing paint thinner directly onto the Mona Lisa. Fashion preservation is so important. This was the destruction of an irreplaceable historical artifact, all for a walk down a red carpet. I'm going to be sick."
Another added: "There's too much focus on how fat Kim's ass is and not enough focus on how @Ripleys screwed up by letting her wear a historical dress without any preparation. Silk gets brittle as it ages and thread decays and a preservationist should have prepared the dress to be worn."
Back in May, the dress's original designer Bob Mackie also expressed that he felt Kardashian should not have worn the dress.
"​​It was designed for [Marilyn Monroe]. Nobody else should be seen in that dress," he told Entertainment Weekly.
At the time, Sarah Scaturro, chief conservator at the Cleveland Museum of Art and formerly a conservator at the Met's Costume Institute, also expressed frustration at the dress being loaned out.
"I'm frustrated because it sets back what is considered professional treatment for historic costume," she told the L.A. Times.
"In the '80s, a bunch of costume professionals came together to state a resolution that historic costume should not be worn. So my worry is that colleagues in historic costume collections are now going to be pressured by important people to let them wear garments."