Republican Representative Adam Kinzinger called out House Minority Leader Kevin McCarthy on Saturday for his silence on Representative Dan Crenshaw's recent run-in with irate right-wing protestors over the weekend.
Crenshaw, a Texas Republican, was confronted by protestors on Saturday at a GOP convention in his state, who accused the lawmaker of being a "globalist RINO." One Twitter user even posted a video of himself calling the congressman "eye patch McCain," in reference to the late senator and critic of former President Donald Trump, John McCain.
Kinzinger, an Illinois Republican who is known to be openly critical of his own party, called out McCarthy in a tweet for not speaking out against the treatment of Crenshaw. He also contrasted the silence against McCarthy's past defense of Georgia congresswoman and conspiracy theorist, Marjorie Taylor Greene.
"Where is Kevin McCarthy?" Kinzinger asked. "He's supposed to defend his members. Now granted, Crenshaw isn't [Greene] or a crazy, but [McCarthy] still should say something. Does McCarthy also appreciate McCains war record?"
The GOP lawmaker went on to question why McCarthy would not speak up about the incident, and alleged that the reason had to do with the forthcoming midterm elections.
As of Sunday afternoon, the House minority leader had not released a statement on the Crenshaw incident or responded to Kinzinger's criticisms. Newsweek reached out to McCarthy's office for comment.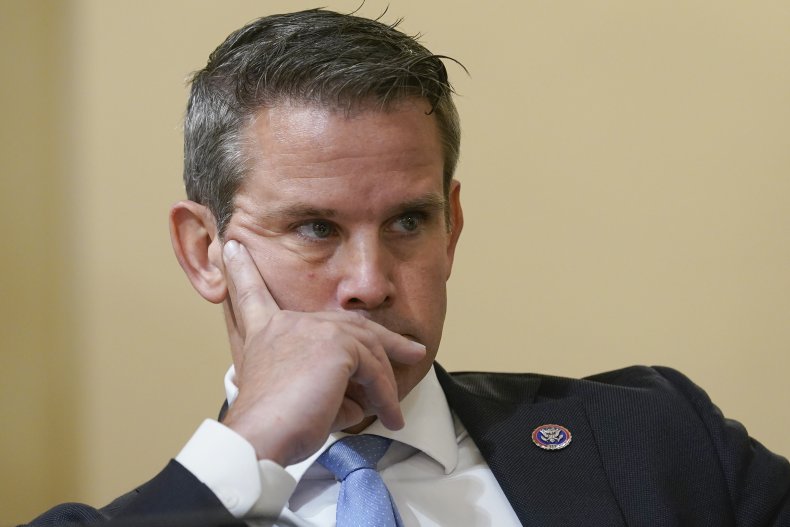 The derogatory nickname shouted at Crenshaw by the protestor appears to derive from a Tucker Carlson segment in May, in which the Fox News host called the congressman "eye patch McCain" in reference to his support of funding for Ukraine amid the ongoing Russian invasion. Crenshaw notably sports a patch over his right eye, having lost it while serving in Afghanistan.
Protestors also pressed Crenshaw on his support for some gun reform laws in the wake of the Uvalde school shooting. While he does support red flag laws, he had spoken out in support of expanded background checks for 18 to 21-year-olds looking to buy firearms.
"Dan Crenshaw is a traitor!" a protestor could be heard shouting in a video that was posted to Twitter. "He needs to be hung for treason."
Crenshaw himself later took to Twitter with a response to a user who posted a video of the confrontation.
"This is what happens when angry little boys like [Alex Stein] don't grow up and can't get girlfriends," the congressman wrote.
While he tended to vote in line with the former president's agenda, Crenshaw has also been known to push back against Trump and the broader GOP's acceptance of him. He notably rebuked the former president's baseless claims about widespread voter fraud in the 2020 presidential election.